Industrial Ceramic Lining Services
The CTI-X7® Industrial Ceramic Lining Specification provides a clear plan to systematically apply a proven standard of performance that will improve your operational efficiency and maximize your material processing equipment. As a Class-A Contract Manufacturer, we focus on customer service and redesign to target problematic plant components, circuit upgrades, and plant expansions.
CTI-X7® Ceramic Performance Standard was recognized in the world-class reliability competition.
Detour's Reliability Team stated in their presentation that "impact abrasion and premature wear on the 30" ball mill lines were adversely affecting plant production due to the pipe and fitting failure."
What does that mean for Material Processing Equipment?
The premature wear resulted in repeated unscheduled maintenance shifts to replace worn and blown-out fittings. Over the last seven years working with Detour Gold, our engineering team designed CTI-X7® Impact Elbow. The impact elbow processed 55,000 tons per day of material and many displaced 5" steel grinding balls. CTI Team extended the 88-degree elbow performance to 10 months, processing 17 million tons of gold ore, supporting mineral throughput by as much as 30 percent.
Detour's Reliability team went on to score 1st place in the international competition. They were competing against multinational conglomerates, DOW-Aramco and Bayer Science.
Mining Processing Operations Can Realize 20 to 25 R.O.I. By:
CTI X-7® Performance Standard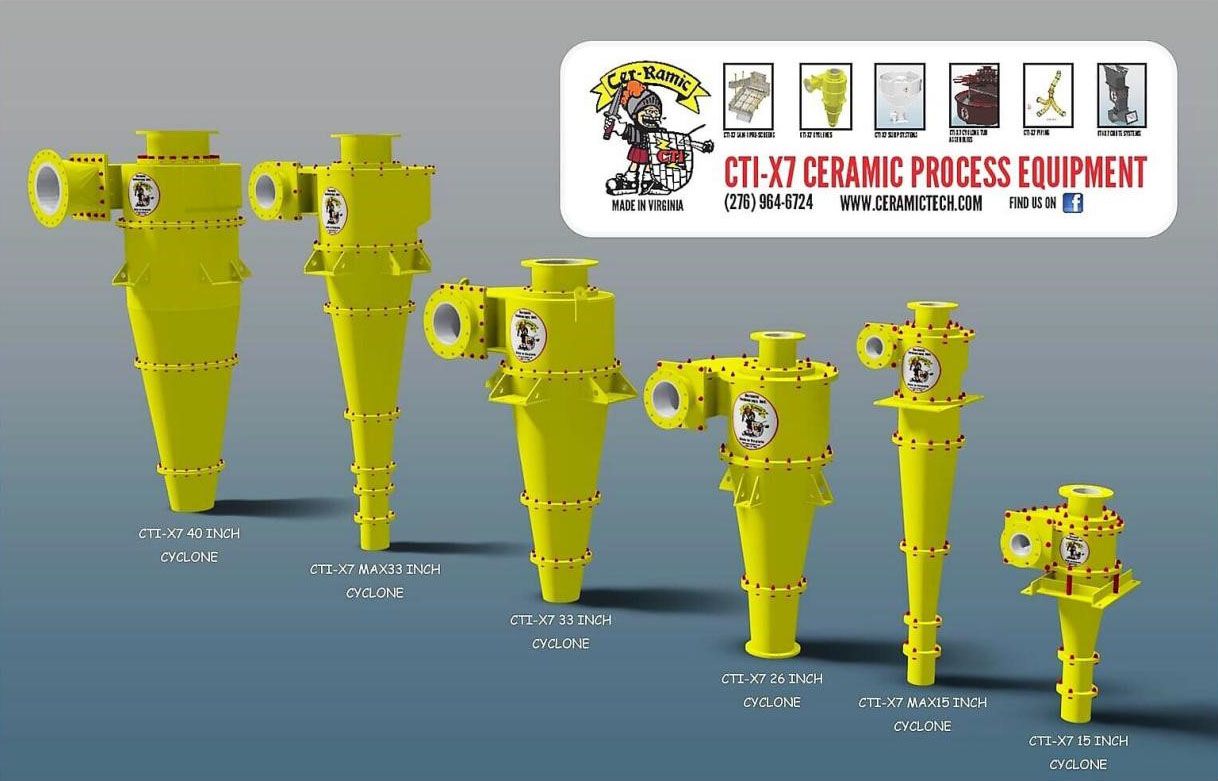 Our team of Reliability Engineers, Certified Welders, and Tile Technicians concentrates their efforts to build one of the best-known material process equipment brands. This respected brand is utilized throughout the coal, mineral, and gold mining industry.
The CTI-X7® Ceramic Process Equipment is supporting operational efficiency across the United States and Canada.
We now operate in the US and Canada as a Class-A Contract Manufacturer. Our X7® brand benchmarks service performance and delivers a 25 to 1 ROI for almost all customers.
CTI Tracks a Very Innovative Path
CTI X-7® process ceramic equipment supports 24 x 7 continuous mineral processing operations, dealing with impact abrasion and reactive wear. We have over 50,000,000 pounds of equipment operating in the day to day grind of the North American mineral processing industries.
By delivering high-quality service that drives our customers' profits to the bottom line, we forge relationships with many customers who face the daily challenge of improving mining process performance.
We encourage our sales engineers to organize and present real-time solutions to repetitive problems regarding equipment replacement attributed to impact abrasion and reactive wear.
CTI concentrates on supporting you and your managers to improve operational performance consistently. This trend has served us well in all our mineral process plants across the North American Continent.
The Process Runs Full Cycle by the Customer Requesting a Quotation
The X7® Equipment bridges that gap for cost-effective solutions. The alumina oxide ceramic is the most cost-effective solution for combating abrasion and reactive wear in coal and steel to phosphate, potash, gold, copper, zinc and iron ore, etc. We are aggressively looking forward to 2021. We are presently projecting growth in an exciting field of operational maintenance, including new capital equipment acquisition in the North American Market.
Have any questions? Call us at (800)437-1142 or contact us!
Connect with us on Facebook, Twitter, or LinkedIn or visit our blog to keep up with company news!